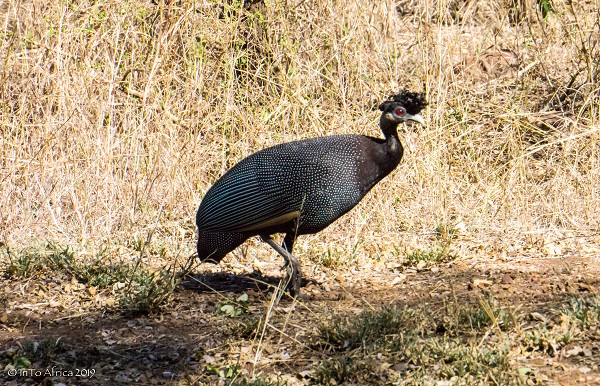 Nkhankanka
means
Crested Guinea Fowl
in siSwati and flocks of the Mbuluzi Game Reserve's "logo" are commonly seen in the undergrowth around the lodge.
The main building of this self-catering lodge consists of two bedrooms with double or twin beds and two bathrooms as well as an air-conditioned living area. Here you will find a fully equipped kitchen.
The adjoining building has got two spacious bedrooms offering double or twin beds and en-suite bathrooms. Each has its own view into the bush or towards the river with sliding doors to allow you to enjoy the peace and beauty of the bush from the privacy of your room.
Cool down and relax in the lodges own pool on hot summer days and enjoy the evening at the Braai / BBQ area.
From the deck, overlooking the Mlawula River, you can spot African Finfoots, Pink-Throated Twinspots and other uncommon bird species.
The Mbuluzi Game Reserve is bound by the beautiful Mbuluzi River and the Lubombo mountain range in the east and boasts a remarkable diversity of habitat. Flora includes the massive riverine forests with towering sycamore figs and wild date palms, rocky cliffs, knobthorn savannah, acacia bushveld and open grasslands.
More than 300 species of birds have been recorded in Mbuluzi, including rarities such as Crested Guineafowl, Pearl-spotted Owlet, African Finfoot and Crowned Eagles.
Many animal species including Giraffe, Zebra, Nyala, Bushbuck, Wildebeest, Kudu, Waterbuck and Crocodile and of course Impala and Warthog can be seen in the Game Reserve as well as near the lodge. Bushbaby and Hyenas are often heard and leopards also occur.
The reserve has a good network of game-viewing roads which are well marked for easy navigation. As well there are many marked Hiking & Mountain Biking Trails. Visitors can drive, walk, or cycle around the reserve at their leisure and their own time.
At an altitude between 150 and 460 meters, and only 70 kilometers from the Mozambique coast, the climate is typical for the bushveld of the Eastern Seaboard – warm during the day, with pleasant cool sea breezes in the evenings.
It's just home away from home… enjoy it.